Non Slip Ceramic Treatment
"Grip-It" Non Slip Treatment for Porcelain and Ceramic Tile Flooring
Slip Resistant Treatment (indoors or outdoors) for Porcelain, Ceramic Tile, Travertine, Granite/Quarry Tile, Bathtub and Shower Areas
Delta Chemicals supplies Grip-It non-slip treatment for use on ceramic and quarry flooring tile as well as unsealed concrete. This product is NOT A COATING. It is a clear solution that is mopped on the surface, allowed to set for about 30 minutes, then removed. You are left with a microscopic tread pattern that gives a gripping effect to the surface when wet.
Traction is increased on average by 80% from the treatment. Anyone can easily apply it – detailed instructions included. The integrity of the tile is not compromised and is actually cleaned as a result of the treatment.
Treatment can last from two to three years or longer, depending on the amount and type of traffic. You can retreat surfaces to bring the slip resistance back up without affecting the integrity of the surface.
This product helps make sure that flooring meets or exceeds the standards set by ADA and OSHA for walking surfaces. You can feel safe about your employees and customers walking on wet ceramic tile flooring after being treated with Grip-It.
Great for...
Businesses
Homes
Hotels
Hospitals
Nursing Facilities
Restaurants
Showers
Restrooms
Kitchens
Walkways
Dining Rooms
Pools
Use on...
Slippery floors
Enamel / porcelain tub
Porcelain / ceramic shower stalls
Ceramic tiles
Porcelain tiles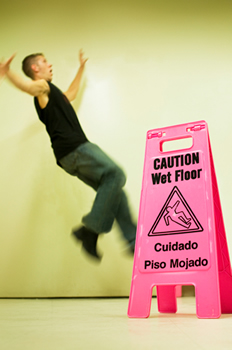 Revolutionary concept lets you maintain the beauty of the surface of tubs, porcelain, ceramic tile commercially and residentially while providing a "long-lasting" non slip surface!
Will not yellow or discolor. This clear coating is a one-time expense! Easy to use mop-on liquid... that's it!
You can walk on this immediately after treatment – there is no drying time. Treatment time is about 30 minutes.
Comes in 1/2 gallon quantities (150 - 200 sq. ft. coverage)
**IMPORTANT - WILL NOT CHANGE THE LOOK OF THE SURFACE APPLIED TO!**