Emergency Roof Repair
Emergency Roof Repair Kit for Residential, Industrial, Institutional, Commercial, Agricultural and Professional Use...
Are you a homeowner who cannot hire a contractor in a timely fashion?
Are you a contractor in need of high-quality, economical roof repair and sealing products?
Are you a business or maintenance professional with an immediate need to repair a leaky roof or other related structural damage?
Delta Chemicals Corporation has your solution!
Emergency Roof Repair kit
Delta Chemicals Corporation's pre-mixed Emergency Roof Repair Kit is designed to waterproof, damproof and repair tough roofing problems in all kinds of weather and in any temperature. Our products go on quickly and smoothly (in rain, sleet or snow) bonding tightly even to water-covered surfaces, forming a tough elastic coating permanently resistant to moisture and cracking.
One kit (10 gallons total) covers 100 square feet at 1/8" thickness -- and can be applied by brush or trowel in thicker patches. Black only.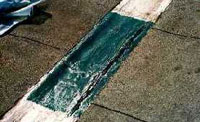 A consistent program of maintenance with Roof Coating and Sealer will add many years of service to your roof.
Each Pre-Mixed, Ready-to-Use Emergency Roof Repair kit contains the following items:
Roof Patching Cement (5 gallons)*
Roof Coating and Sealer (5 gallons)*
Roof Mesh
Application Tools
Application Instructions
* Items are used in rapid sequence for same-day repairs. These items can also be purchased separately for emergency or non-emergency applications.
Usage Areas Include (but not limited to):
Roof Leaks
Flashing Repair
Chimney and Firewall Repairs
Mobile Home Seams
Vent Pipe Installation
Gutter Sealing
Bridging