Concrete Floor Repair
Repair Your Concrete Floors and More with the Kit That Does It All in One Step!
All-Krete is our multi-use, easy-to-use concrete repair product designed for one-step permanent concrete repair. All-Krete quickly repairs potholes, joints, cracks and does not require any special preparation work or priming. An All-Krete applied pathway can be opened to all forms of traffic within one hour (even in sub-zero environments), avoiding expensive shutdowns.
For over 30 years, All-Krete has proven itself to be the industry's leading concrete floor repair product under the most difficult circumstances. It is the preferred concrete repair compound for many Fortune 500 companies.
Price: $119 - Buy 2 Get 1 FREE!
Cures at room temperature in 30 minutes
Cures in sub-zero temperatures
Pre-mixed, ready to use
No shrinking or peeling
No heat systems or lamps required
Use on dry or damp floors
Excellent on expansion joints
From 12" deep to feather-edging at 1/16"
Eliminates costly shutdown time
Any color available
Use All-Krete Poly Patch Concrete Floor Repair on:
Warehouse floors
Expansion joints
Loading docks
Potholes
Walls & ceilings
Spalled, pitted areas
Processing areas
Freezers
Coolers
Thresholds of coolers
Freezer walls
Re-build drains
Parking lots
Dry or damp areas
Fix It Once - Fix It Right Permanent Concrete Floor Repair No More Freezer or Plant Shutdowns Ever! Cures at Room Temp in 30 Minutes - Down to -30° (Cures to 10,000 PSI)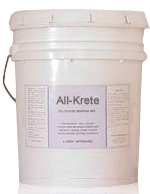 Poly Patch / All-Krete