Concrete Floor Sealer
Seal Your Concrete Floor with the Kit That Does It All in One Step
New! Ready to Use Concrete Floor Sealer -- No Mixing!
Brush or Roller -- Fast Drying!
Resists chemical attack
Waterproofs
Dustproofs
Revitalizes old concrete
Cures new concrete
Protects from staining
Epoxy floor sealer #7300 is a heavy duty, deep penetrating sealer that is designed for concrete, wood, metal and steel surfaces. It comes ready-to-use and is easily applied with a roller.
This unique floor sealer will stand up to abrasion, water, scuffing and even resists gasoline, greases and acids. The product of choice wherever moisture is a problem.
Our concrete sealers are designed to be used in warehouses, on production floors, shop floors, garage floors and showroom areas; any area where a showroom-like finish is desired. This epoxy floor coating will protect floors and even brick and stone from staining.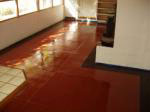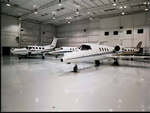 Ideal for foot traffic areas. Cures, seals, hardens and dust proofs concrete floors.
High-gloss, high-build, low odor, heavy duty epoxy coating.
#7300 floor sealer is also recommended for walkways, garage floors, industrial floors, catwalks, storage tanks, and many other applications.
Low VOC compliant product that will harden quickly and may be used both indoors and outdoors. Ideal for both foot and heavy vehicle traffic.
This floor sealer eliminates concrete dusting and actually gives new strength to older floors. Can be formulated as a non slip surface coating.
A truly beautiful, high build epoxy coating that is available in clear or a range of colors. No mixing!
Easy to apply
Use a brush, roller, lambs wool applicator or spray to apply.
First clean surfaces so they are free from dust and dirt. For best results on concrete, etch the surface with a 10% solution of muriatic acid. New concrete should be free of surface moisture and firm enough to walk on.
Please click here to read the Concrete Floor Sealer Safety Data Sheet